Ebou Adams recalls that he made his own debut when he played for Dartford in the sixth round. "I told myself that by the time I was 20, I could give up my dream of becoming a professional," he told Sky Sports. "And I was 20 years old."
Four and a half years have passed and Adams is doing better than just playing professionally. Not only did he support Forest Green Rovers at the top of the League Two table, but this month he will represent Gambia in the first Africa Cup of Nations.
It is a great moment for his family. Both of his parents were born there before moving to England. "It's been a month. They just want to see me play but my mom is a little scared because it's my first big competition and it will be shown everywhere."
You got this. There was no educational basis for Adams. His teenage years were a credit to the Walton Casuals in the Isthmian League. He goes to university in a week, teaching with Dartford Tuesday evening with Walton Casuals Thursday.
Friday night was a change for TGI Friday. "I got home very late and then I had to go by myself to play Walton Casuals. It could be Worthing or Herne Bay. I would be back late Saturday and work again Sunday morning."
Don't regret it. "I appreciate my approach," he adds. "Walton Casuals was one of the best things that ever happened to me. It helped me to understand men's football. Jobs are on the line. People don't want to be fired because of the financial problems they have.
"Dartford no longer had top clubs but that means when I got to the Soccer League, I was very grateful. I'm not saying some players don't but, for me, it helped me appreciate playing. A good place and having good showers.
"It gave me the motivation to be a football player."
Learning sports science helped. "I made myself a good runner." Even the food at TGI on Friday did not disappoint him. "I think I ran away with only wings." Adams did not make time for himself but soon after, his life changed.
Norwich offered him a contract.
He left to play his last Dartford game against Havant and Waterlooville to face Manchester United at Old Trafford in a developmental game. "I remember being on the pitch and just looking around and thinking about the great players who played there."
There are still obstacles. Failing to do well in Norwich, he borrowed a loan from Shrewsbury and did not play much. Although he had an exciting time at Leyton Orient, he dropped out of the Soccer League and was paid late at Ebbsfleet in 2019.
"It hit some more than me – players with families and home loans. I was a kid paying for my car and my phone. But it was hard. There is no direct way to victory."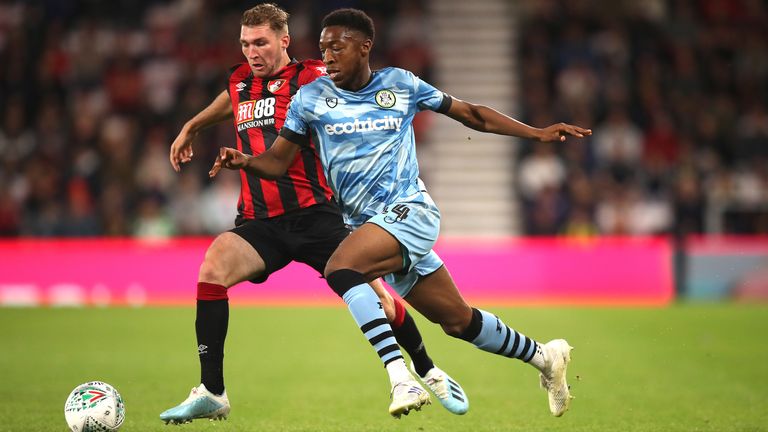 It was a move to Forest Green that confirmed the support. "I can't call it a team because it feels like a family. We're like brothers." Promotions now seem possible. "I don't want to say too much but I'm happy with how we started."
Adams was important.
"I can imagine myself as a footballer. I'm a strong player. I like to be involved in the game, whether it's defensive or destructive work. I like to be in and around the game. Get in the box, make crosses."
He will probably show the world some of Gambia's activities in the coming weeks. The transformation of world football had to be rapid – he made his debut against Algeria. "I think you could say I was thrown into the deep."
But it helps in his game.
"It really impresses me as a player. It expands my knowledge because I have to get used to different ways. You have to be very knowledgeable when it comes to challenges."
Live AFCON




Wednesday 12 January 3:55 pm

The Gambia starts their match with Mauritania before facing Mali and Tunisia. They are newcomers but there is a quality there. Musa Barrow plays for Bologna, Ebrima Darboe is in Rome and Omar Colley is a regular at Sampdoria. "We have good players."
Then there is Adams himself. From Friday at TGI to the Africa Cup of Nations. The journey is not over.
"I'm looking forward to it right away. But there's nothing we can lose so we can play with freedom and enjoy it. The goal is to make knocking sessions, maybe go all the way and, you never know., Maybe just win.
"We hope to make a statement in Africa, we don't just want to be, we want to join the party with the big boys.
"Everyone is very happy. Let's see how we can move on."
Watch Mauritania vs The Gambia live on Sky Sports Football from 3.55pm Wednesday; from 4pm